University of St Andrews
School of Computer Science
Updated 14 November 2023 by saleem.
© All Rights Reserved.
ILNP - Identifier-Locator Network Protocol:
FreeBSD 14.0 @ IETF118/Prague
FreeBSD code development by Gregor Haywood.
Experiment conducted by Saleem Bhatti and Ryo Yanagida from the Hackathon at IETF118/Prague, 04-05 Nov 2023.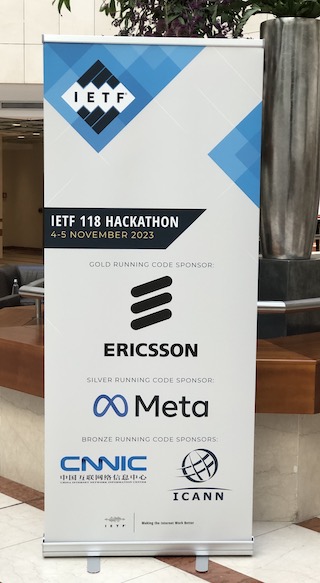 This page is documentation of a successful experiment to test basic, international connectivity for the FreeBSD implementation of the Identifier Locator Network Protocol (ILNP). The experiment was run between a client system connected to the IETF network at the Hackathon (at IETF118/Prague, Czech Republic), and a server at the University of St Andrews (Scotland, UK). The experiment used native IPv6 applications to show that they can benefit directly from use of ILNP without needing to be modified (i.e. using the standard C sockets API), and working directly over an existing IPv6 network, with no proxies, no tunnelling, no address translation, and using standard unicast routing.
The experiment scenario was a simple client-server communication to demonstrate that the following mechanisms could operate across the Internet (at least between Prague and St Andrews):
Use of the end-to-end ILNP addressing architecture as described in RFC6740(E) [1] and RFC6741(E) [2].
The ILNP Nonce (the IPv6 Nonce Header Destination Option, an IPv6 end-to-end extension header) as described in RFC6744(E) [3].
Use of ephemeral node identifiers (ephemeral NIDs) for privacy, as described in this paper [4].
The Hackathon Experiment, 04-05 Nov 2023
On the client system, ietf118-client-alice, the following were executed: ping, an rsync file download, and an ssh session.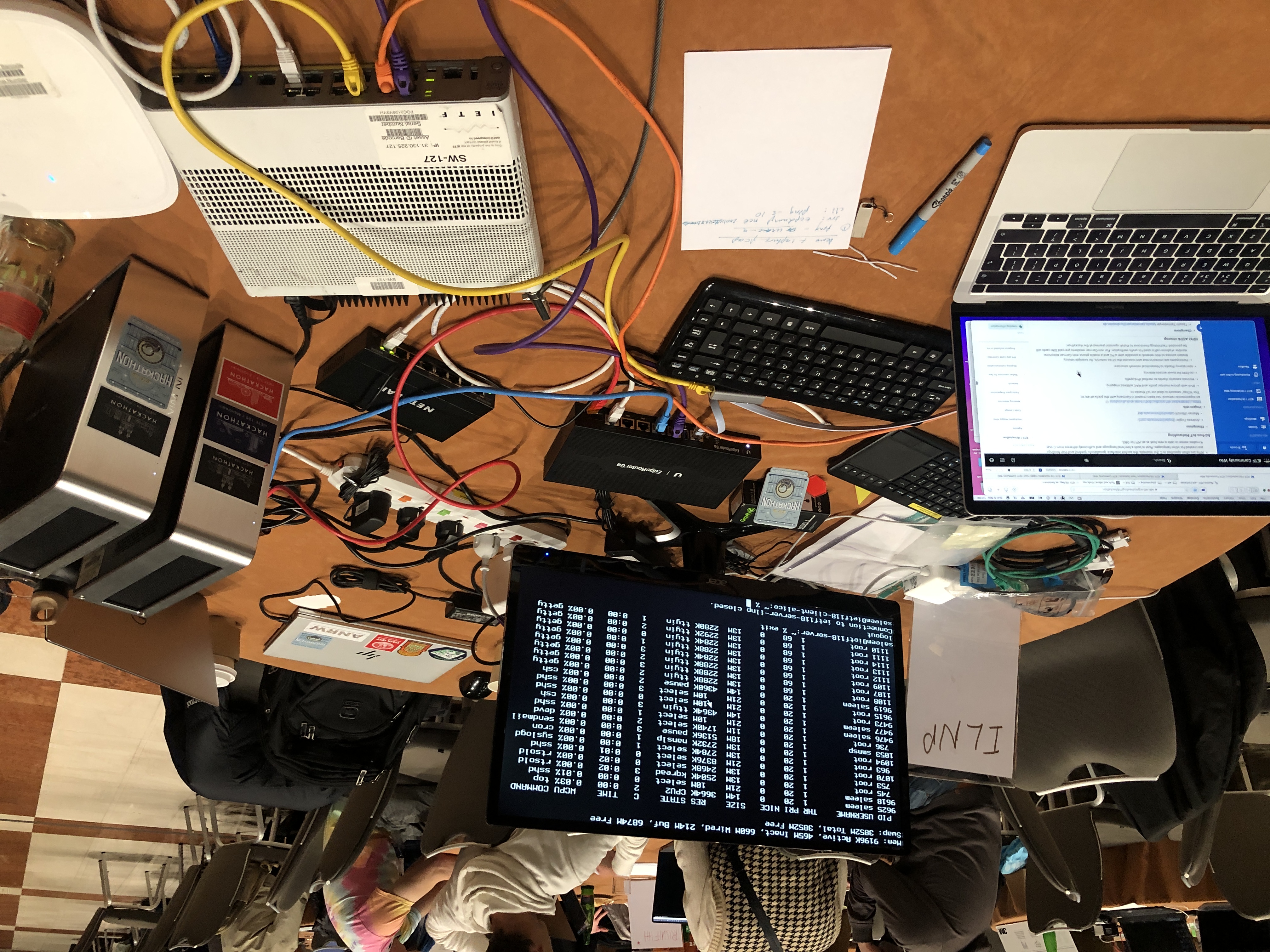 Below is a link the data-set from the experiment, with .pcap files captured at ietf118-server from the Hackathon testing, all runs conducted from ietf118-client-alice. Inspection of the .pcap files shows the ILNP Nonce (ala RFC6744(E)) present in all packets, which can also be seen in the text versions of the .pcap files (generated using tshark -V on the .pcap files). Note the change in the lower 64 bits in the address field for ietf118-client-alice in each .pcap file (address value 2001:67c:1232:eee1::/64), as the ephemeral NID mechanism generates and uses fresh NID values for each communication session.
TBC -- link to St Andrews Data Repository
ILNP - Identifier-Locator Network Protocol : FreeBSD 14.0 @ IETF118/Prague (dataset)
Inactive DOI, waiting for final dataset tarball upload via Pure - 10.17630/8a1f128b-8362-446e-8e7e-fea5a2dab97f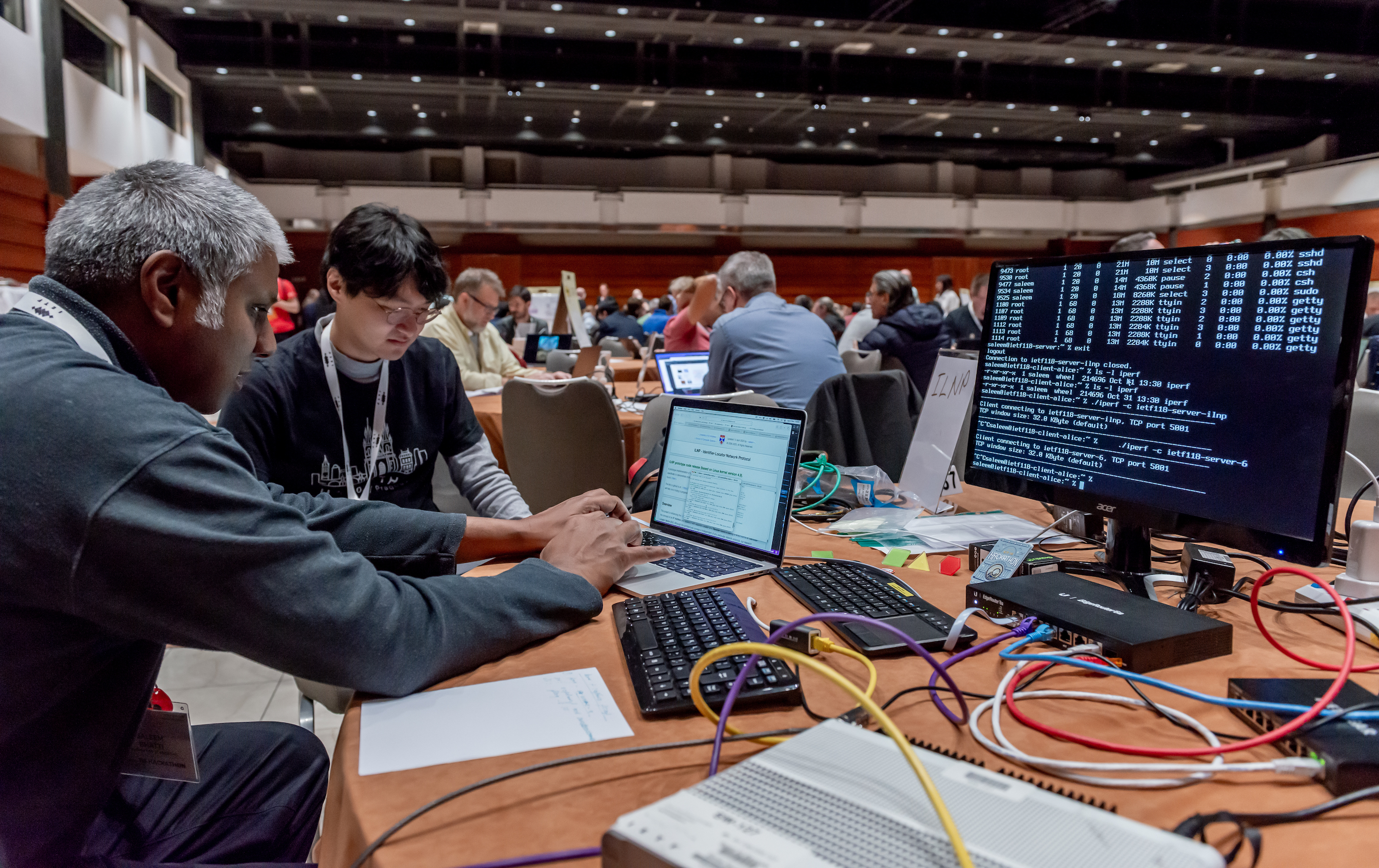 The official demonstration at the "Hackdemo Happy Hour", 06 Nov 2023
A presentation describing the demonstration of the connectivity above is here. Below are two videos showing a quick run of the demo. This was filmed "live" at the "Hackdemo Happy Hour", so the sound is noisy.