University of St Andrews
School of Computer Science
Updated 22 January 2020 by saleem.
© 2006-2020, All Rights Reserved.
ILNP - Identifier-Locator Network Protocol: video streaming demonstration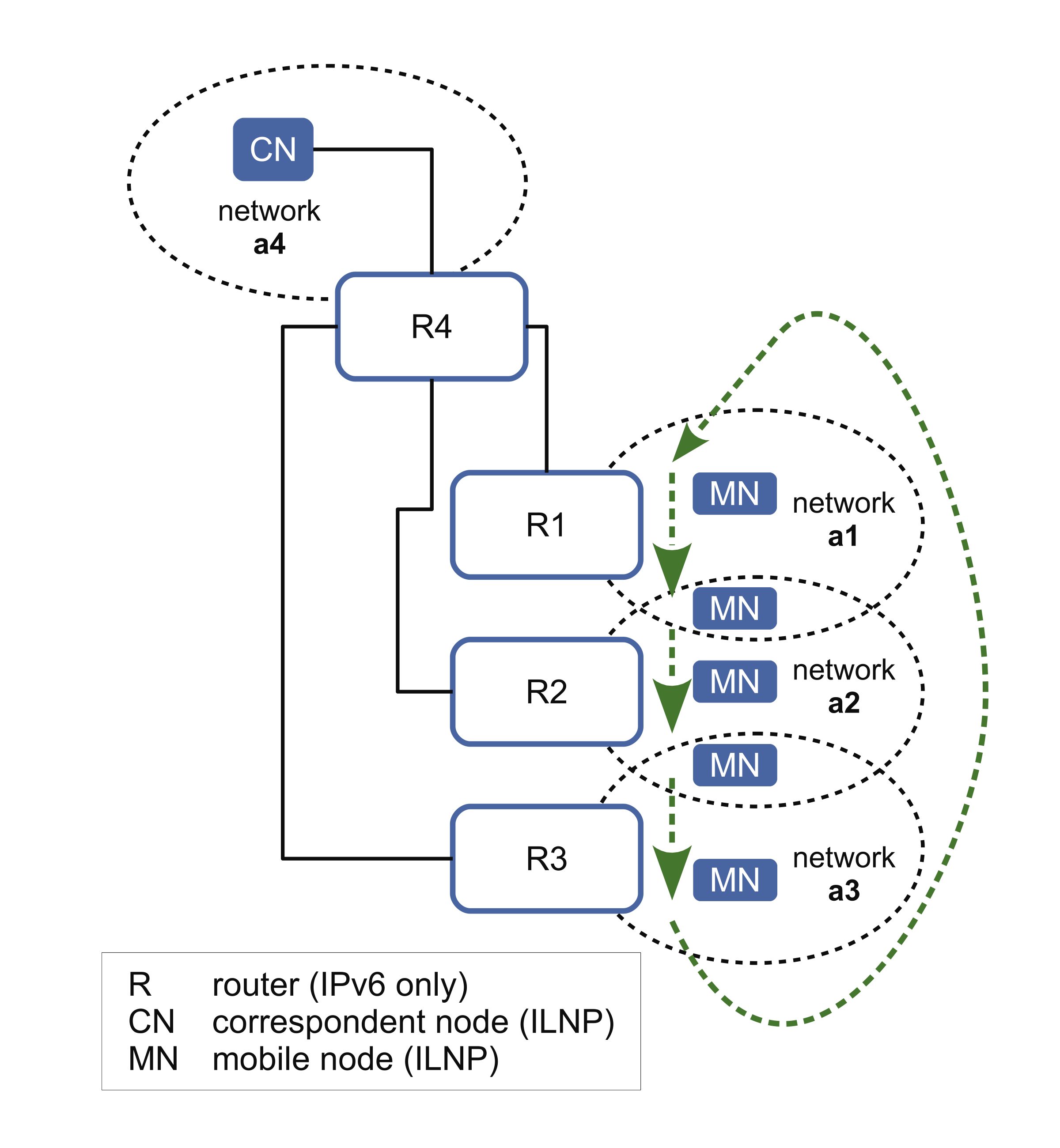 What you see is a video playing in the background (on the monitor), being streamed from the machine on the left (server / correspondent node, CN), played back on the machine on the right (client / mobile node, MN), which is connected to the screen. The video is 1080p/HD, H.264 (in a MP4 container), a copy of an opensource video ("Tears of Steel") hosted on the server. The network between the two machines has the topology as described in [1], i.e. four different networks — R1, R2, R3, and R4 — with statically-configured (fixed) routing throughout. The network consists of cheap-and-cheerful Ubiquiti routers (3x EdgeRouter-X for R1, R2 and R3; an EdgeRouter-6P for R4 — in the foreground, middle of the screen), i.e. a network of unmodified, off-the-shelf, commercial equipment that is not "ILNP-aware". The server is connected to R4, and the client is connected initially to R1. The software being used for client and server is the popular, opensource, VLC software, i.e. unmodified software that is also not "ILNP-aware".
Ryo connects and disconnects various ethernet interfaces on the MN/client (use of red, blue, and yellow cables on the right), to emulate movement of the MN/client across the different networks, R1, R2, and R3. The video stream is handed-off seamlessly across the new connectivity, with no loss or interruptions (VLC was using RTP/UDP). No routing changes, no tunnels, no middleboxes, no NAT, no need to upgrade network equipment, and no need to upgrade existing software: the seamless mobility of the stream was enabled via the ILNP Linux kernel extensions that are now publicly available. (More details and experiments on the mobility mechanism for ILNP can be found in [2].)
The ILNP kernel extensions used in this demo is are on github at: https://ilnp.github.io/ilnp-public-1/. Please do complete the questionnaire that is linked on that page — it will help us in trying to progress support for further development of ILNP!